In the dynamic world of real estate, it's important to stay in the know, so we've reviewed the October data from Mobile and Baldwin counties, found in the local commercial MLS. Below you'll find our insights and tips on retail, land, industrial, and office properties.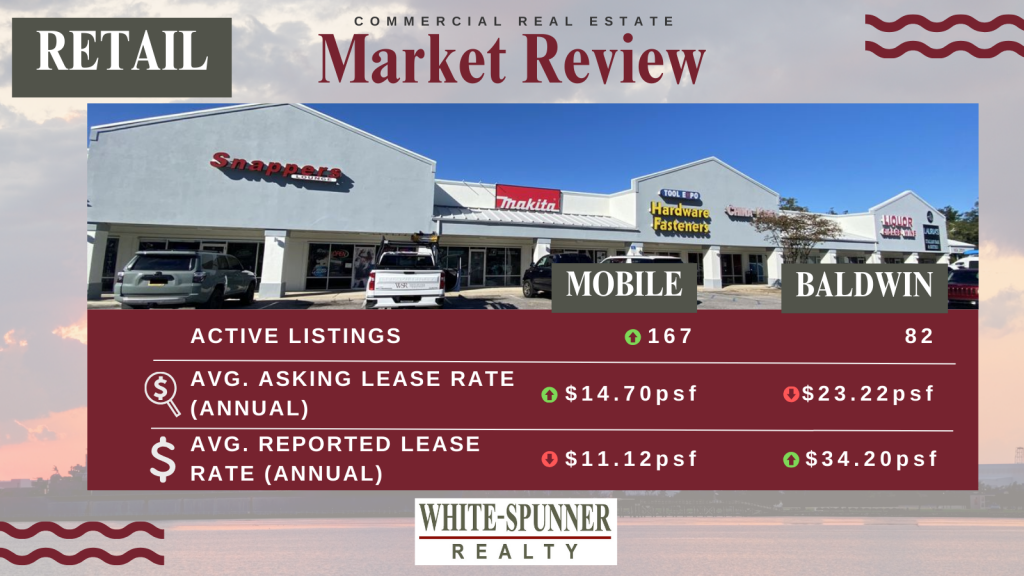 Retail
Baldwin: The number of lease listings for retail properties in Baldwin has remained relatively stable over the past few months; however, there has been a significant variance in the reported lease prices, ranging from $13.00 to $34.20 per square foot. This likely is due to the age and locations of the buildings being leased.
Mobile: Meanwhile in Mobile, retail lease listings have steadily increased over the past few months, indicating a potential demand for retail spaces – going along with current national trends that show the retail sector as a strong part of commercial real estate. However, there's been a fluctuation in reported lease prices, with a 20% drop since August.
Given these fluctuations in lease prices in both Baldwin and Mobile counties, it's essential for retail property owners and retail tenants in our area to closely monitor market conditions and trends. Give our team a call if you want help making informed decisions about lease rates, whether as a landlord or a tenant!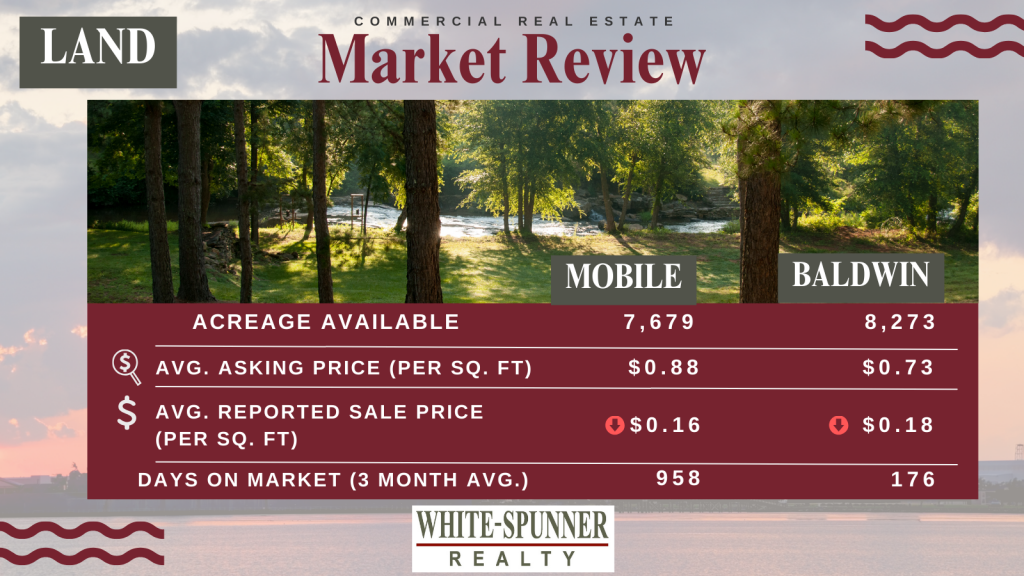 Land
With over 15,000 acres for sale or lease in Mobile and Baldwin counties and with a low number of transactions, asking prices have stayed relatively consistent over the past few months. However, the reported sale prices for land have varied significantly over the past quarter; in Baldwin county, they've ranged between $0.68 to $0.18 per square foot and in Mobile county, between $0.25 to $0.16 per square foot. Landowners should be patient and realistic about their expectations for land sales and considering the variance in reported sale prices, offers should be critically evaluated with the help of a professional.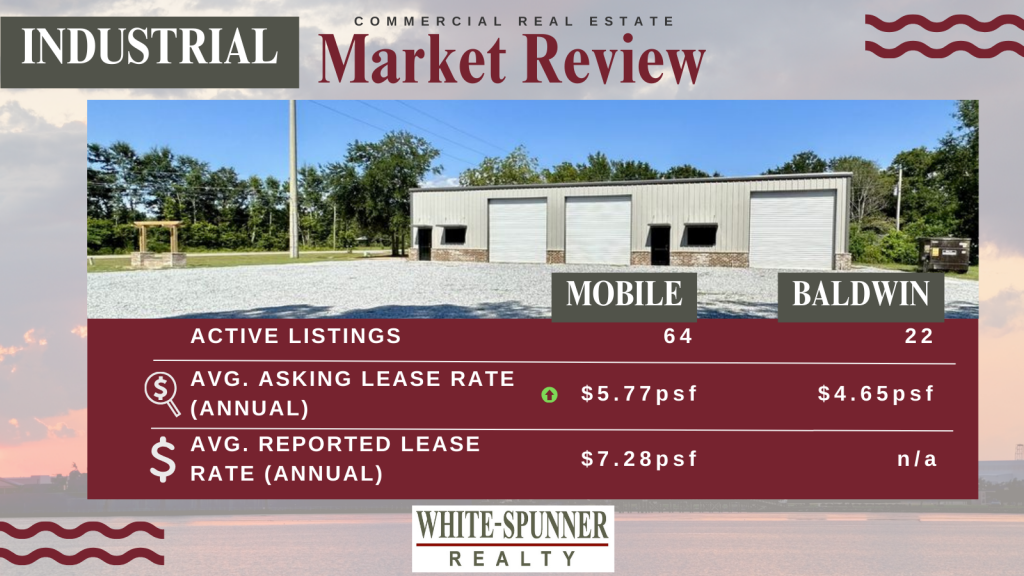 Industrial
If you are looking to lease or buy industrial space in our area, you have options, as the supply is stable. In Mobile, asking lease rates continue to increase and reported lease rates continue to remain above asking rates, indicating that the industrial market remains popular. In Baldwin, asking rates have stayed relatively stable, as have Days on Market (an indicator of how long properties are taking to sell or lease). In both counties, industrial properties are typically selling within 3 to 6 months. With a popular asset type such as industrial, you'll want to consider seeking professional advice whether you are selling, purchasing, or leasing to ensure you are receiving a competitive rate.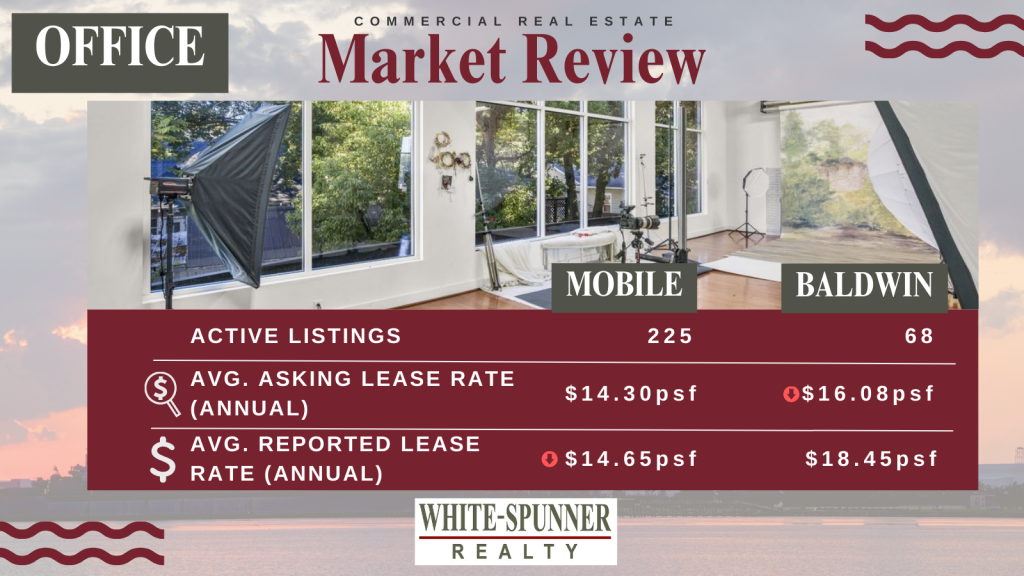 Office
The office property market in our area has experienced fluctuating lease listings and square footage availability over the past quarter. Reported lease prices have varied in both Mobile and Baldwin, with spikes in August and September most likely due to the lease of newer, Class A buildings. Office property owners should be prepared for continued market volatility in this sector of real estate, particularly in lease pricing. Stay informed about local economic conditions and be willing to show flexibility in negotiating lease rates; seeking professional guidance can ensure these negotiations end in a fair deal for you!